Worcester City Council leader Adrian Gregson loses no confidence vote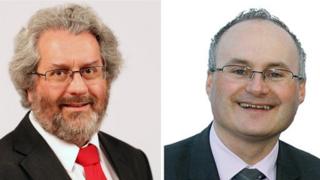 The Tories have won back control of Worcester City Council after a vote of no confidence in the former leader.
Adrian Gregson was in charge of the previous Labour administration.
But the Conservatives, led by Simon Geraghty, won Tuesday night's vote with the support of Alan Amos, an Independent who recently resigned from the Labour party.
The council is now made up of 17 Conservatives, 15 Labour, one Liberal Democrat, one Green and Mr Amos.
'Dark ages'
"I think it's a bad day for politics when other interests have taken centre stage instead of what is happening in Worcester," said Mr Gregson.
"I am concerned Worcester will now revert back to the dark ages with privatisation and cuts."
Mr Amos was voted in as the city's mayor at the meeting, over Labour-backed candidate Paul Denham.
Mr Amos left the Labour group because he felt he was being excluded from the party's leadership, Mr Gregson said.
"[By leaving the party] he has stopped our entire strategic framework," he added.
Worcester City Council was previously led by Labour. But no party was able to gain overall control when 12 seats went up for election in May.
Mr Gregson said they had been in the process of trying to negotiate a deal with the Liberal Democrats and Green Party.
The council said the Conservatives had taken control of the council by 18 votes to 17.
Mr Amos was unavailable for comment.