Woman airlifted after Leominster dog attack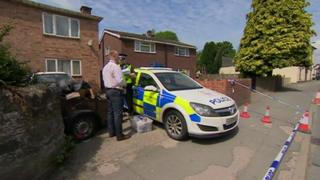 A woman has been airlifted to hospital after suffering "significant injuries" in a dog attack in Herefordshire.
She was attacked by two dogs, believed to have been a bull mastiff and Staffordshire bull terrier, in Bridge Street, Leominster.
Two other women were also injured during the incident which happened at about 18:30 BST on Saturday.
Two men, aged 21 and 26, were arrested and remain in police custody.
The badly injured woman was taken to the Queen Elizabeth Hospital, in Birmingham, by air ambulance.
Her condition was described as stable and comfortable and she is being cared for on a regular ward.
Bridget Hirschmann said her son Robert had gone to the woman's aid and used a chair to separate her from the dog.
"She was bleeding profusely," she said.
"He actually got a chair and got between the dog and the woman who was being mauled.
"He just talked calmly to the dog and got it off.
"The attack went on for 15 minutes".
The other women were treated at Hereford Hospital.
West Mercia Police said the bull mastiff, which was restrained by officers, died at the scene.
The other dog was seized by police.