Asbestos exposed in Hereford Ambulance Station garage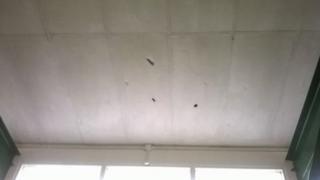 Asbestos has been exposed inside the garage of a recently refurbished ambulance station' forcing bosses to keep about 30 ambulance vehicles outside, a union has said.
Unison spokesman Andy Kibble said holes in Hereford ambulance station's garage roof were identified on Friday.
He said he was concerned about workers' health at the base.
West Midlands Ambulance Service said the asbestos in the roof area was "low risk".
'Made safe'
Mr Kibble said specialist equipment had been kept on vehicles rather than in secure lockers since the discovery.
"It's causing us a lot of problems here at Hereford at the moment and that's as a result of a delay by management to take action more promptly," he said.
The station reopened in 2011 after an £800,000 revamp to turn it into a hub for the county.
A trust spokesman said the substance had been identified as "non-asbestos fibre-board ceiling tiles coated in asbestos paper".
"The trust has arranged for its asbestos analyst to conduct air and physical sampling of the site which will then be thoroughly cleaned and made safe.
"An investigation involving unions and the trust's health and safety officers will be conducted next week."