Worcestershire County Council services are 'up for grabs'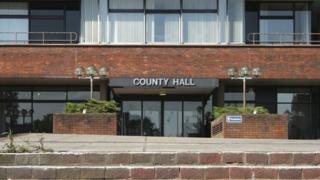 A council has said it will privatise the vast majority of its services saying most things are "up for grabs".
Worcestershire County Council said it will outsource 85% of what it does by 2018.
The Conservative-led authority has said it needs to make £80m of savings over the next three years.
But one union leader said the plan will put the council's public sector ethos at risk.
Councillor John Campion said however, handing over services to private and voluntary groups was the only alternative to axing them.
'Value for money'
Mr Campion, cabinet member for transformation, said: "Transactional things could be commissioned out - things like how we pay our staff, how we pay our invoices, how we provide HR advice - all these things that don't necessarily have any impact on our community yet we still have to provide them.
"We want to make sure we are getting the best from the commercial sector to provide value for money."
The council said more than half of its services were already commissioned out.
In January, it said it would make 650 job cuts, in addition to 850 redundancies already announced.
Jim Price, branch secretary of Unison in Worcestershire, said: "I think what worries us most is that the county council seems to be buying into an ideology that's being forced down from London, which is bow down and worship the private sector wherever possible.
"Councillor Campion has mentioned he is keen to protect the public sector ethos.
"But, I don't see how the council is going to hold on to that ethos if all we are doing is farming all these services out."