Parties seek edge in Worcester elections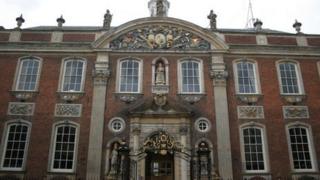 As people prepare to vote in local elections across the country on 22 May, Worcester City councillors hope it will inject some much-needed democracy into the area.
Control of the authority shifted from Conservative to Labour only last year, when the Liberal Democrats switched their allegiance.
What is more, it happened without a single ballot paper being cast and depended on a decision taken ultimately by just three people.
The Tory leader Simon Geraghty said: "To change an administration, not on the back of a set of elections but on a change of heart by a party, I think that's difficult for people to understand how that has come about."
Changing partners
Until May 2013, the Conservatives were in charge in Worcester but they did not have enough councillors to run the show themselves.
As in Westminster, they were relying on support from Liberal Democrats - in this case, all two of them.
But unlike their national counterparts, local Lib Dems were unwilling to stick with their political partners and after a flurry of backroom negotiations less than a year after agreeing the deal, they switched their support from blue to red.
Prominent Tory members spoke of a sense of "shellshock" as they found themselves booted out of office after 13 years and cabinet members had to give up thousands of pounds in allowances.
It created what the Lib Dem councillor Ken Carpenter described as a "poisonous" atmosphere in the council chamber as Conservative councillors went on the attack.
He said: "I thought the more vigorously, the more unpleasantly they came for us, the more I felt justified in the decision we'd taken."
Mr Geraghty, who was not criticised personally, said he understood why some of his colleagues were upset, due to the manner of the decision by the Liberal Democrats.
Tory defection
Labour, with 15 seats (two fewer than the Conservatives), came to power with the support of both the Liberal Democrats and the one Green Party councillor.
Labour leader Adrian Gregson said: "I think we were excited, there was a certain amount of trepidation but in the months since then, we've demonstrated a level of responsibility and common sense."
Unsurprisingly, the Conservatives disagree and nearly a year on from their fall from power, they are still smarting at how it happened.
The Liberal Democrats said their original decision to back the Conservatives had been a difficult one and was aimed at stabilising the council.
At the time, the Tories commanded two more seats than Labour and there were also queries about how the Green party councillor would vote day-to-day.
A Conservative defection to Labour in October means Labour and Conservatives now each hold 16 seats on the council.
Twelve seats are up for election on 22 May and all parties are keen that voters decide who controls the next administration - although the smallest parties could still yet have their say.
See the Worcester City Council website for a full list of candidates and parties standing.