Herefordshire highways budget more than doubled to £40m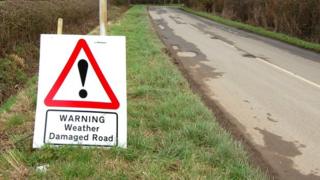 The amount of money allocated by Herefordshire Council to mend roads this financial year has been more than doubled by external funding.
Flooding earlier this year caused extensive damage to the roads, the council said.
The authority's expenditure from its capital and revenue budgets will be £16.5m.
A further £3.5m will be supplied by a government grant while contractor Balfour Beatty has invested £20m.
This was a condition of a 10-year highways maintenance and improvement contract, between the council and the company, worth £200m.
Cabinet member for infrastructure, Philip Price, said the money would be spent on drainage and filling potholes.
Money previously spent on grass cutting and street cleaning has been diverted to use on road maintenance.
Mr Price said it had been a difficult decision but the measure would save nearly £2m.
"The council needs to continue to focus on core services," he added.
"This extra money will be used to improve the overall standard of the network. This will make a significant difference to the state of the county's roads."