Emily Jordan: Drowned woman's father angry as NZ watchdog shuts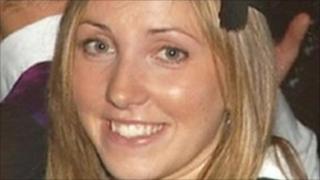 The father of a UK student who died while river-boarding in New Zealand has branded the closure of the country's adventure sports watchdog "disgusting".
Outdoors New Zealand was supposed to audit extreme sports in the country after Emily Jordan, 21, from Trimpley, Worcestershire, drowned there in 2008.
But the company announced on Thursday it had suspended business, blaming a lack of government funding.
Miss Jordan's father, Chris, said poor regulation was "a risk to life".
'Insulting'
Ms Jordan, who was on a gap year with her boyfriend, drowned after she became stuck under a rock in the Kawarau River, near Queenstown, in April 2008.
An inquest - which returned a verdict of death by misadventure - concluded her unsuitable lifejacket and the river boarding company's lack of equipment were contributing factors.
A scheme introduced in 2011 - in the wake of Ms Jordan's death - required all such businesses to be certified as safe by November.
Mr Jordan, who claimed the type of lifejacket his daughter had been wearing is still used in New Zealand, said the lack of progress was "insulting" to victims' families.
"Just 39 out of the 500 or so adventure activity operators have been audited by Outdoors New Zealand," he said.
"It's appalling, the problem is [the New Zealand government] have said one thing and then they haven't done anything at all.
"We wanted something positive to come from Emily's death but what's taking place is indescribable."
In a letter to its members, Outdoors New Zealand said it was "swamped with calls for audits" after it became the country's only government-approved auditor in October last year.
It said Worksafe New Zealand, the country's health and safety department, promised to "provide resources to help us increase our capacity".
"A few weeks later WorkSafe reneged on this promise, leaving us in a disastrous cashflow position, and despite immense efforts to change their minds on this one we have been unsuccessful," it said.
WorkSafe New Zealand said it remained committed to the 1 November deadline to audit outdoor adventure firms.
On Monday, the watchdog announced it had appointed three dedicated advisers and said it was offering operators "considerable support".
It also added that it was in talks with a number of providers, other than Outdoors NZ, to help complete audits.