Hereford Old Market shopping centre opens in city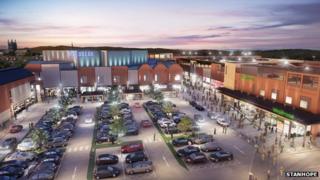 A new £90m shopping centre in Hereford has had its opening brought forward following delays.
The opening of the Old Market shopping centre had been initially delayed due to "exceptional weather", which hampered building works. It was not due to open until 9 May.
However, developer Stanhope said the first stores, including Waitrose, Debenhams and TK Maxx, are now open.
The city's businesses said the centre was "much needed".
John Jones is the chair of the Business Improvement District (BID) steering group, which was set up partly in response to the development.
He said: "It's not a 'them' and 'us' situation. We are working with the Old Market to make Hereford a regional shopping destination.
"In the past, Hereford didn't have enough of a shopping mix and the shops going into the Old Market are mainly new names in the town.
"We have lost a couple of chain stores from the old city centre to the shopping centre but the big players like Marks and Spencer are still right there in the middle of the town and will remain there."
Stanhope said the centre would deliver 18 big-name retail brands, eight restaurants and a six-screen cinema.