Herefordshire scarlet fever cases confirmed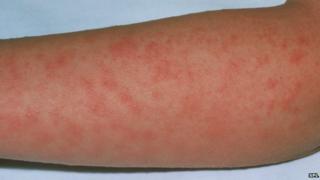 Six cases of scarlet fever have been confirmed at schools in Herefordshire as reports hit a two-decade high.
Two cases were reported amongst pupils at Kingstone High School and another two at Kingstone and Thruxton Primary School, the schools confirmed.
It is not yet known who is affected by the remaining two cases.
Last month, Public Health England (PHE) published figures showing cases were at their highest for this time of year since 1990.
There were no cases in Herefordshire over the same period last year, between 1 January and 3 April.
Nationally there have been 3,548 reported cases since September, compared with an average of 1,420 over the last 10 years, it said.
The highly contagious bacterial illness, most common in children aged between two and eight, causes a rash, high temperature, sore throat and a white coating on the tongue.
It can also cause ear infections, throat abscesses and pneumonia.
More rarely, it can lead to liver damage, kidney damage, acute rheumatic fever and bone or joint problems, according to PHE.
It said the condition could be treated with antibiotics and advised anyone displaying symptoms to visit their GP.