Stourport builder fined after fence causes brain injury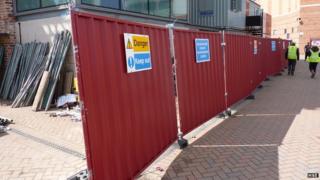 A building contractor has been fined £20,000 and must pay costs of £10,250 after a woman suffered brain damage when she was hit by fencing that collapsed in a gust of wind.
Thomas Vale Construction of Stourport, Worcestershire, was working in Kidderminster when it happened in 2012.
The woman, 56, who does not want to be named, was walking past some hoarding when it blew over on top of her.
She was knocked unconscious and sustained bruising on the brain.
'Foreseeably catastrophic'
Her injuries affected her balance and senses of hearing, smell and taste, and she was unable to work for seven months.
The Health and Safety Executive (HSE), which brought the prosecution, said the contractor should have carried out a more thorough risk assessment because the impact of collapse were "forseeably catastrophic".
Kidderminster Magistrates' Court heard the woman's injuries were sustained two weeks after another part of the perimeter fence had blown over in the wind, when nobody had been hurt.
The company pleaded guilty to breaching safety regulations.