West Mercia Police 'wrong to Taser man on roof'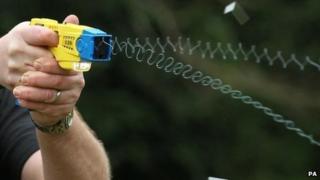 Two officers have had misconduct charges upheld after a man fell from a roof after being Tasered in 2012.
The man was armed with a knife and hammer on a roof in Worcester, threatening to harm himself, the Independent Police Complaints Commission (IPCC) said.
Trying to detain him under the Mental Health Act, an officer Tasered him, despite a negotiator being on the way.
He suffered minor injuries in the 8ft fall and made a complaint.
He said officers had not warned him in advance that the device would be used.
The IPCC concluded there was a case for misconduct and, at a hearing earlier this month, West Mercia Police upheld the charge.
An inspector and sergeant received management advice for authorising its use to a third officer, who was himself cleared of any wrongdoing.
'Completely inappropriate'
The IPCC said the victim did not pose a threat.
"He was clearly distressed and in my view it was wrong to use force against him, whilst the option of persuading him to come down safely remained open," IPCC Deputy Chair Rachel Cerfontyne said.
She described the Taser use as "potentially very dangerous and completely inappropriate".
In a statement, West Mercia Police said one of the officers has chosen to appeal and that it would be "inappropriate for us to comment further at this time".
The IPCC investigation also found the force should clarify how officers are debriefed in such cases.
Last year there were 154 referrals to the IPCC over the use of stun guns by forces in England and Wales, up from 99 in 2010.
"The IPCC is very clear that we have serious reservations about some of the circumstances in which a Taser is used," Ms Cerfontyne said.
"The public's concern over the use of Taser will only increase with cases such as this one."