Malvern girl, 17, first to make racket tournament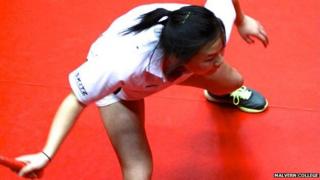 A teenage girl is to become the first female to play in a schools rackets tournament.
Shinan Zhang, 17, from Malvern College in Worcestershire, will replace an injured male teammate at the National Schools Rackets Championships.
She was picked by her coach and given permission to compete by the competition's organisers.
The competition begins at Queen's Club in London on Sunday. The sport is similar to, but faster than, squash.
It is played in a 30ft by 60ft (9.1m by 18.3m) enclosed court, with a ceiling at least 30ft (9.1m) high.
Rackets dates back to the 18th Century, when it was played in the open, on the walls of the yards of the King's Bench and the Fleet debtors' prisons in London.
The game is now mainly played at private schools and clubs - there are only 27 courts in the UK.
Miss Zhang, who has been playing the game for about four years, said she was looking forward to the championships and playing against boys for the first time in competition.
"All the boys on my team have been really supportive," she said.
"Surprised, yes. But really supportive."
Noel Brett, Malvern College rackets coach, said choosing the replacement for the injured male player was an easy decision.
"There was no hesitation, Shinan is in the team on merit," he said.
"She's definitely the best man for the job."
Although Miss Zhang will be the first girl to compete in the doubles championship, Fiona Readman from Marlborough School competed in the Senior Schools Singles Championship in 2004.