Apology over Sir Edward Elgar Banksy-style street art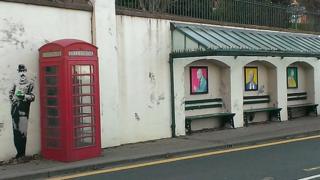 Two men who put up Banksy-style street art of Sir Edward Elgar have apologised for not seeking approval first, a council said.
Lee Morris and Tom Brown, from Malvern, Worcestershire, spent more than 100 hours creating four images in and next to the town's Rose Bank bus shelter.
The town council said it had been urged by residents to allow the artwork to remain.
It said the artists intended it to be an "anonymous gift" to the community.
Supporting arts
The appearance at the weekend of the artwork, in the style of Bristol-based graffiti artist Banksy, had brought "a flurry of positive responses from the public in Malvern," the council said.
"Unique", "inspiring" and "interesting" were some of the comments that had been received about the street art, the authority added.
It said the men stated they would like to issue an apology for not seeking approval from the council first and the pair "do not condone any form of unauthorised public graffiti".
Mr Morris said the three pictures within the bus shelter were prints on canvas and he still had the originals which he intends to sell before putting all proceeds towards supporting the arts in the community.
A council representative said in view of the positive response to this artwork, which was not commissioned by the authority, it may consider using the artist's work at other sites in the town.