Cash grants for flood-hit Worcestershire businesses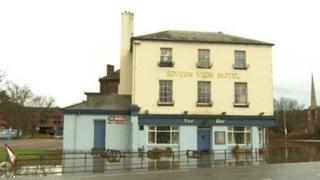 Flood-hit business owners in Worcestershire are being invited to apply for grants to compensate them for lost business.
Up to £3,000 will be available to those companies worst affected by February's widespread flooding, Worcestershire County Council said.
A £200,000 fund, including £90,000 from central government, will be used to provide the grants.
Affected businesses said they needed the money "as soon as possible."
'Floods cost thousands'
The council said higher level grants - issued through its business support service - would go to companies where water had entered premises.
Firms affected by road closures caused by flooding can apply for smaller grants of up to £1,500.
Worcester city centre flooded when the River Severn hit record levels in February, leading to roads and bridges into the city being closed.
James Abolghasemi, owner of the Severn View Hotel in Worcester, which was forced to close for two-and-a-half weeks, estimated he had lost "thousands".
"When we get [the money] it will be a great help but I wonder if we can survive until then," he said.
Abi Anday, manager of Detroit's restaurant in Worcester, said they had lost two-thirds of their trade because of road closures.
"We were hugely affected. We had to lay off members of staff. Normally we do 180 covers, that week there were only 20."
Councillor Phil Grove from Malvern Hills District Council said he welcomed central government support but would lobby for more funding.
"Communities in the district have a long history of repeated flooding and need all the support they can get," he said.