RAF Defford World War Two decontamination building to be restored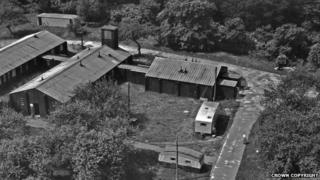 Staff at a "secret" airbase were so concerned about the threat of chemical warfare during World War Two that a decontamination chamber was built. Now the derelict building is being restored thanks to a £135,000 grant.
Hidden in 18th Century parkland in rural Worcestershire, the decontamination facility at RAF Defford was built to treat people in the event of a chemical attack.
The chamber, with showers on separate sides for men and women, has been derelict for decades.
But it is hoped the annexe will reopen as a museum exploring the history of the site later this year.
Michael Forster-Smith, property manager at the National Trust-run Croome parkland, said: "[There] definitely would have been a feeling for the service personnel here of precariousness, right on the edge.
"Despite the fact this was a research base, it must have been a place where people on a day-by-day [basis] weren't sure of their futures - [they] had no security or certainty over what life would hold for them."
The chamber, and another five buildings in the sick quarters area, formed a small part of the vast RAF Defford site, which was set in thousands of acres of parkland.
Described by the National Trust as "one of the most secret places in the country," the base - with more than 200 aircraft - was a place where "war-winning" radar inventions were tested and installed.
By 1945, there were 3,000 people at the site, near Pershore, including more than 2,000 service personnel.
They included top scientists - some of "Britain's best brains" - and local people, working in offices, helping to provide food and acting as drivers, Defford Airfield Heritage Group [DAHG] said.
The base was equipped to treat people in the event of a nerve gas, mustard gas or tear gas attack.
'Very hard winters'
The showers were built in the 1940s, while the 20m by 20m decontamination annexe was joined by a corridor to two other hospital buildings, which have been restored and are open to the public.
Mr Forster-Smith said in case of an attack, service personnel would have dumped their contaminated clothes and gone through showers before having surgery or treatment for burns in the middle building, which also housed a dentistry section.
Mr Forster-Smith said: "Initially, service personnel staying on site would have been bussed once a week over to Malvern to get their weekly shower.
"There were also records of some very hard winters.... These buildings [are] only one brick thick or half a brick thick, so these would have been very cold buildings to stay in, but service personnel were encouraged to use their water bottles, which kept them warm overnight, [and use] the water the following morning to wash in."
In terms of the base's achievements, DAHG secretary Bob Shaw said anti-submarine radar was developed there.
He added: "The Battle of the Atlantic was won over the green fields of Worcestershire."
Dr Shaw, 77, also said H2S radar developed at RAF Defford was fitted to Lancasters and Halifax bombers and led to "the sort of precision systematic destruction of German cities which won the war".
The "pioneering work" at the base continued after World War Two.
Mr Forster-Smith said: "A lot of the technology that we find at home in our microwave ovens today was developed here at RAF Defford."
Most of the wartime buildings were demolished and cleared from the area after the base closed in 1957.
Mr Forster-Smith said: "The work was pioneering, it was top secret and this place must have been full of bustling energy, new discoveries.
"It was a very, very special place, instrumental in the Allied victory in World War Two."