£1.1m expansion starts at Worcestershire school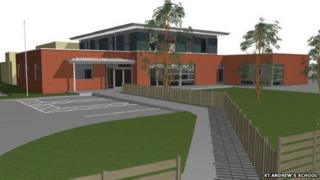 Work on a £1.1m expansion at a Worcestershire school is set to start.
The project, at St Andrew's First School, in Evesham, will see two 20-year-old temporary buildings replaced by permanent classrooms, a staff room and a new hall and entrance.
Headteacher David Coache said the development would "significantly improve" the school's facilities.
The project, which is being funded by Worcestershire County Council, is set to be completed in October.
Mr Coache said the scheme was the first phase of a scheme to double the size of the school. The second phase is currently in consultation.
"There are an extra 1,400 homes being built in our catchment area so we will require additional capacity," he said.
"Children, staff, governors and families are all very excited about this development."