HMS Ledbury crew parades in Herefordshire twin town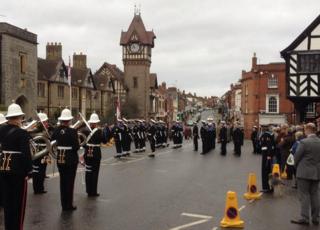 Sailors from HMS Ledbury have paraded through the streets of the ship's namesake town.
Freedom of the Herefordshire town was granted to the company in 2007 and this was the third march since then.
The crew also played a football match against Ledbury Swifts and was given a reception at the Royal British Legion.
The parade included Ross and Monmouth Sea Cadets, Hereford Sea Cadets, and Ledbury Army Cadets, and was led by the Royal Marine Band from Plymouth.
The Lord Lieutenant of Herefordshire, Lady Darnley, took the salute.
'Special moment'
Ledbury mayor Terry Widdows said that it would be nice for the sailors to see the town.
"The crew changes, so for a lot of them it will probably be their first visit and a chance to meet some people," he added.
Commanding Officer of HMS Ledbury, Lt Cdr Simon Pressdee said a freedom parade was always a "very special moment in any ship's affiliation and we couldn't be more proud to exercise this honour in our twin town, with which we have a close bond".