Flood-damaged roads will 'cost millions' to repair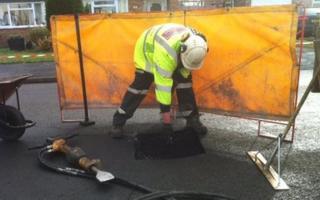 Repairing flood-damaged roads across Herefordshire and Worcestershire is set to cost millions, councils have said.
Both counties were hit by widespread flooding during the wettest winter on record.
Worcestershire County Council has ring-fenced £700,000, while Herefordshire Council estimated it would cost £2.85m to fix potholes and other defects.
They said they were committed to "long-term" fixes for the problems.
'Huge challenge'
Worcestershire County Council highways manager Jon Fraser told the BBC the authority had already mended more than 800 potholes in the last fortnight.
"There are 23 gangs working on this at the moment, that's nine or ten more than usual. We are attacking them as fast as we can," he said.
Herefordshire Council's Highways Manager Clive Hall said it had identified 1,800 problems on its road network.
He claimed the estimated repair cost was likely to increase as more damage was identified.
"It is a huge challenge," he said.