'Largest ever' Herefordshire cannabis factory found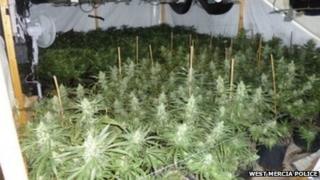 Police say a cannabis factory found in Herefordshire is the largest ever discovered in the county.
The haul of 2,180 plants was found in an old mail sorting office in Bromyard on Tuesday, West Mercia Police said.
Two men were charged with producing cannabis and appeared before magistrates in Hereford on Wednesday.
Hue Van Nguyen, 46, and Dieu Xuan Mai, 44, were remanded in custody and are due to appear at Hereford Crown Court on 27 May.
'Massive factory'
Officers searched the building after members of the public reported a strong smell of cannabis coming from the site.
The number of plants seized could have produced up to four crops a year, with each crop potentially worth nearly £1m, police said.
West Mercia Police said the building had many rooms with plants at various stages of development.
"This was a massive cannabis factory, one of the biggest ever seen in the region and the largest ever uncovered in Herefordshire," Supt Ivan Powell of West Mercia Police said.
He praised the "astute members of the public" who had reported the smell to police.
"We believe this seizure has prevented a large quantity of cannabis, possibly worth several million pounds, ending up on the streets."
The two arrested men were also charged with illegal abstraction of electricity, after the meter was bypassed to extract power from the mains.
"This creates a serious risk of fire and the possibility of anyone on the site being electrocuted. We had to call in specialist colleagues from Western Power to make the site safe," Supt Powell said.