Tonnes of debris removed from flooded River Severn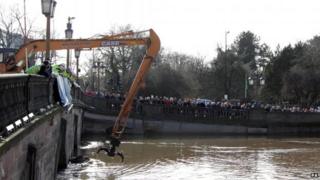 More than 500 tonnes of debris washed down by the floods has been pulled from the River Severn in Worcestershire, county council officials have revealed.
A mechanical digger was brought in to recover the debris, which included 30ft (9m) trees ripped up by the waters.
The river bridge at Upton was due to reopen at 17:00 GMT on Tuesday.
City council leader Adrian Gregson has called on the government to fund a second bridge across the River Severn to keep traffic moving in the future.
"The River Severn floods regularly and we need to ensure our great city's businesses do not suffer every time it happens," he said.
Jon Fraser, from Worcestershire County Council's highways team, said the clean-up operation was progressing well.
'Tip of the iceberg'
"We estimate we've got about 500 tonnes' worth of material - most of it trees," he said.
"But we've also come across parts of a shed, we've had a wheelie bin and a beer barrel. There's all sorts."
Mr Fraser said the piles of debris visible on the water's surface were "just the tip of the iceberg" and it was up to 9ft (3m) deep in some places.
Some roads remained shut in Worcester, including part of Hylton Road, and there was disruption to bus services.
The bridge in Bewdley remained closed.
Mr Fraser said there would be a convoy system in operation on the Upton bridge to allow drivers to pass safely.
Dave Throup, of the Environment Agency, said flood levels were slowly falling across Worcestershire and Herefordshire.
He added about 50 homes had been flooded in the city, with a similar number in rural Worcestershire and another 30 in neighbouring Herefordshire.
However, he said flood defences built since the previous major flood of 2007 had protected about 1,300 homes along the River Severn.