Worcester police investigate burglary at flooded hotel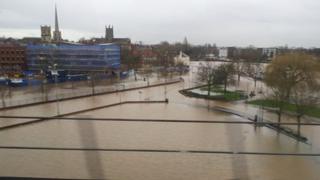 Police are investigating a burglary at a Worcester hotel which is currently closed because of flooding damage.
The break-in, at the Severn View Hotel, happened between 20:00 GMT on Friday and 16:00 GMT on Saturday, West Mercia Police said.
Supt Kevin Purcell said a laptop and several hundred pounds in cash were missing from the hotel's office.
He added this was the only crime reported to police so far involving a flood-affected property.
Hotel owner Indy Singh told the BBC he was "really upset" by the incident.
"They've damaged the doors, stolen stuff from inside the till... it's just vandalism really, there's no need for it," he said.
Levels falling
Elsewhere in Worcester, the main bridge is now "fully open" after being shut because of flooding and most roads are operating normally, the city council said.
The level of the River Severn is slowly falling but remains high, according to the Environment Agency.
A huge clean-up operation to remove flood debris in the river started over the weekend.
Hundreds of tonnes of debris were pulled from under the bridge, including 30ft trees and a garden shed.
It was shut to traffic on Tuesday evening, with a shuttle bus being used to transport people across the bridge.
Supt Purcell tweeted that all roads around Worcester had reopened overnight, except for Hylton Road.
"Current information from the Environment Agency shows river levels now not going back up to the peaks we have seen over recent days albeit they may take a while to go back to the levels we normally see at this time of the year," he said.
He added an army lorry, "affectionately known" as the "Upton Express", which has been ferrying people through flood water to Upton-upon-Severn, would continue running for the next few days.
Bewdley Bridge will remain closed until the water level drops and flood barriers can be removed, he added.