UK floods: Clean-up operation starts in Worcester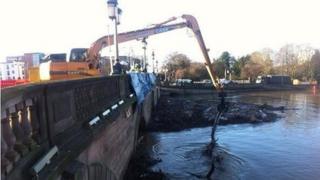 A huge clean-up operation to remove some of the flood debris at Worcester's main bridge has started.
Work was due to begin on Saturday but was called off due to the high volume of water. A crane has been brought in to remove large pieces of rubbish.
River levels in the county are "stable" and some sections of the River Wye in Herefordshire have now peaked.
John Hobbs, from Worcestershire County Council, said public safety is paramount while the work is being done.
'A magnet'
"It has to be done very carefully," he said.
"We have to make sure the public are safe so we have to protect the traffic on the other side of the bridge.
"Generally, it's a bit of a magnet for people because they want to come and watch this kind of thing."
Supt Kevin Purcell, from West Mercia Police, said his officers and council workers would work flat out in the affected areas.
The assistance of the Army has allowed his team to get help to areas much quicker, he said.