UK floods: River levels in Worcester rise again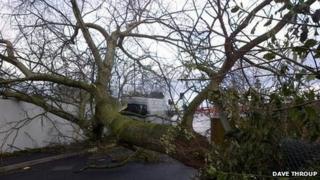 River levels in Worcester are rising again after falling over the past 24 hours, the Environment Agency has said.
The severe flood conditions have eased across Herefordshire and Worcestershire but levels on the Severn, Avon and the Wye are rising once more.
More than 300 troops remain in the two counties, helping with the flood relief effort. Worcester's main bridge in and out of the city reopened on Friday.
A large tree fell in the city overnight, blocking a road.
Dave Throup from the Environment Agency tweeted that no-one was hurt.
Army trucks have also been ferrying people across flood water in Upton-on-Severn.
BBC News' Sian Lloyd said although water levels were receding in Worcester, the agency was expecting another peak on Sunday.
Officials are monitoring the river closely in case the bridge needs to be closed to traffic again, she said.
Ambulance crews were called to help a motorist after a tree fell on a car in the early hours of Saturday, on Henwick Road in the city.
"Fortunately the driver had managed to safely get out of the vehicle and was found to be uninjured," West Midlands Ambulance Service said.