Environment Agency's Dave Throup unlikely Twitter hit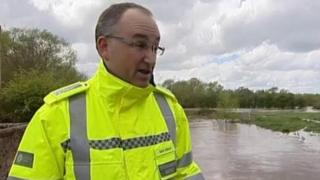 A manager at the under-fire Environment Agency has become an unlikely hit on Twitter with hundreds of people joining a fan club set up for him in two days.
Dave Throup, manager for Herefordshire and Worcestershire, said he felt "slightly embarrassed but proud" by the @DaveThroupFans account.
It was set up by county councillor Andrew Atkinson, who said "we would be lost without him".
It includes tweets from Des Auld, who tweeted: "Ace Guy, yet so modest."
A user called Lukeee added: "Proud to say I live on the same estate as dave throup."
Mr Throup, who has become well known for using social media to keep his own 7,100 Twitter followers up-to-date with his work, said his aim was to promote the Environment Agency, rather than himself.
'Outstandingly well'
So far more than 1,200 people have followed the Twitter fan club profile.
Mr Atkinson, who represents Ross-on-Wye East on Herefordshire Council, said the account was a "tongue-in-cheek way of celebrating him and his work".
"In my job as a councillor I hear public sector workers are regularly criticised but very rarely are they praised for doing their jobs.
"I wanted to show we recognise and appreciate the work they do and that Dave does his job outstandingly well.
"It shows that other people feel the same because the page has really taken off since I set it up."
He added Mr Throup was "brilliant at keeping people in the loop".
He said: "We'd have been lost without him, he has enabled our community to stay on top of the floods."