Worcestershire floods: River Severn at 'record' level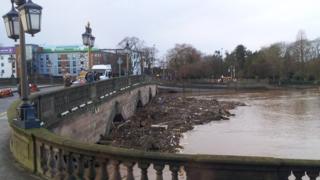 The River Severn in flood-hit Worcester has reached its highest level in recent years.
The river water in the Barbourne area at 05:00 was 5.67m (18ft 7in), above the 5.64m level reached in July 2007.
It is the highest level reached since Environment Agency records began.
The agency said flood defences "in Worcester town are holding with levels now slowly decreasing" and it had no fears about the river coming over the top of flood defences there.
By 14:00 GMT the river had dropped to 5.58m (18ft 4in) at the Barbourne gauge.
Flood warnings are in place for the River Wye from Hereford to Ross-on-Wye and several stretches of the River Teme.
Hundreds of properties in the two counties have been without power.
Mark Shaw, network services manager from Western Power Distribution, said around 500 properties were still without power, mainly in small villages in Herefordshire, but they hoped to restore service by the evening.
'Serious concerns'
The city council is on "emergency footing", meaning it will move some of its resources away from day-to-day work and focus on preparing for when the water levels start to fall.
Earlier the army arrived in Worcester to provide extra support to flood victims.
A spokesman confirmed 100 troops had been deployed to the city with 300 more placed on standby. They said they will remain for at least two weeks.
Brigadier Gerhard Wheeler, commanding officer for the West Midlands, said: "It's unprecedented flooding and we are ready to provide whatever help is needed."
Supt Mark Travers, from West Mercia Police, said the decision to bring the army into Worcester was "not usual" but indicated "the scale of the situation".
In Worcestershire and Herefordshire 21 flood warnings are in place for the Severn, Avon and Wye.
The Environment Agency said the Wye in Hereford had peaked at 4.5m (14.7 feet) at 11:30 GMT.
Dave Throup, agency manager for Herefordshire and Worcestershire, said: "We are not expecting the river to go up very much in Worcester but we are expecting river levels to rise quite quickly on the Wye, the Teme and possibly the Avon. However, we are not expecting to see anything more severe than we already have."
In Worcester some of the major roads in the city centre are shut, along with the Sabrina footbridge and the main bridge.
A rescue boat was sent to the Severn View hotel in the city, but it was thought everyone had already left by foot, BBC News reporter Bethan Bell said.
Hereford and Worcester Fire and Rescue Service said crews from Malvern and Worcester rescued two adults, a teenager, two dogs and a cat from a flooded property Hanley Rd, Upton-upon-Severn.
Road bridges in Upton and Bewdley also remain closed.
A shuttle bus across Worcester's bridge has been running and will operate until 22:00 GMT.
BBC correspondent Phil Mackie said the city was welcoming "flood tourists" in the hope they would spend money at local businesses.
But the flooding has caused problems for people who live in Worcester.
Joan Baker, 69, of Bath Road, said: "I know they've put the shuttle bus on, but I need to know when the usual service is back. It's costing me a fortune in taxis."
Peter Richardson, owner of Richardsons newsagent in St John's, said his garden at home on Hylton Road was "well flooded" but he had never been flooded in the house.
He added: "The journey to work was easier than usual because there was no traffic. [I'm] selling more local papers."
Marilyn Lloyd, 63, from the Commandary, an area in Worcester city centre, had used the shuttle bus to cross town.
She said her partner had recently died and the floods made her grief worse.
She said: "I only buried him yesterday and I felt this morning I really had to see my daughter for a bit of moral support, so I knew I had to cross town somehow."
Upton-upon-Severn CE Primary School and Hanley Castle High School in Worcester have been closed for the rest of the week.
Riversides School in Worcester was shut on Thursday.
A number of other schools announced closures via Worcestershire County Council's Twitter feed.
The decision over Hanley Castle High School was "due to serious concerns about the safety and viability of journeys to and from school", the council said.
A number of roads are closed because of water, landslips and fallen trees.
Peterchurch, Madley, Hampton Bishop, Holme Lacy and Hoarwithy are particularly badly affected in Herefordshire.
More than an inch of rain fell on parts of the county on Wednesday.
The flood barriers in Upton are coping well, BBC Hereford and Worcester reported, but the water is rising at the bottom of Tunnel Hill - the opposite side of town to the river.
One resident called Rowan, who has put in his own flood defences, said they were holding the rising level of water back but only just.
He said: "We had to do quite a few modifications yesterday [Wednesday] because it was starting to come over the top of them.
"So [we had] lots of family and friends round so we managed to extend them up another five or six inches."
Maryann Scamp, 56, from the Arboretum area of Worcester, said she was walking her dog at about 07:45 GMT, when someone spotted an otter in a canal in the city.
Peter Case, water and wetlands officer with Worcestershire Wildlife Trust, said it was not rare for otters to use the canals in Worcester, but the fact they have been spotted out in the open suggested the floods were affecting them.
Residents of Lea, in Herefordshire, said their homes had been flooded by foul water and called on the Environment Agency to deal with the village drains.
Steve Banner said: "The village was awash with sewage."