Worcestershire flooding: Water could top barriers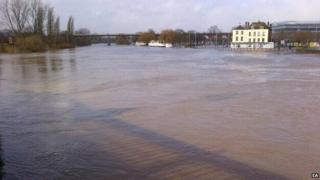 Flood water in Worcestershire could spill over barriers for the first time, the Environment Agency has warned.
The river is due to peak on Thursday at 5.8m, with the flood defences built to withstand levels of 5.7m (18ft 8in).
It has now surpassed by 1cm its highest recorded level, in 2007, by reaching 5.65m (18ft) at Barbourne, the agency said.
About 3,600 homes in Worcestershire and 2,000 in Herefordshire are without power, Western Power Distribution said.
About 50 residents of sheltered accommodation in the city were rescued by fire crews.
'Watching and praying'
Flats in John Gwyn House on North Parade, next to the River Severn, have also been evacuated.
More than 40 houses are flooded in Worcestershire and 19 in Herefordshire, BBC Hereford and Worcester is reporting.
In Herefordshire, several villages have been cut off by surface water flooding to around 2ft (61cm).
Forecasters say about another 3in (7.5cm) of rain is expected to fall by the weekend.
Oliver Jones, 89, said he and his son were "watching and praying" the flood water gets no closer to his home on Hylton Road in Worcester.
"In 2007 the water actually came into our house and we were flooded and had to have it all redecorated," he said.
"This time I can see it is close, and we have no sandbags or anything like that, so we're just hoping."
Severn Trent said sandbags would be issued to residents along Hylton Road once some of the flood water had been pumped away from the road.
The rail line between Great Malvern and Ledbury is completely closed, train operator London Midland said, and passengers should "try to avoid travelling to Hereford at all".
Mr Jones' neighbours John and Sandra Wilson, whose house is about 2ft higher than his, said: "It's not as bad as 2000, when the swans were half way up the drive.
"We hope it won't get much worse but there's not a lot we can do."
Rachelle North from Norton said she could not believe how high the water was in Worcester.
"It's like the end of the world," she said. "I can't stop looking at it, it's like a film. Awful but compelling."
Worcester Bridge in the city centre was closed on Tuesday night until further notice and two footbridges are also shut.
A shuttle bus is running over the bridge to take people across the river into and out of the city and will run 22:00 GMT on Wednesday and start at 07:00 GMT on Thursday.
Jeremy Johns from the St Johns area of Worcester, who was queuing for a bus, said he thought worse was yet to come.
"I understand why people are getting upset, my wife and I are upset too. But it doesn't help to get too worked up. There's more on the way, we need to brace ourselves."
Dave Price who lives in a hamlet near Madley has been cut off for eight days.
He said: "There are seven houses here and about two feet of water is washing up the lane. We can walk across the muddy fields to get to shops but there is no way you can get one of our vehicles out of there."
He added his mother-in-law had been taken to hospital via a 4x4 response vehicle on Tuesday.
"We live nowhere near a river. We live nowhere near the sea. It's simply that the pipes won't cope with the surface water."
Elsewhere in Herefordshire, the Wye in Ross reached 4.32 metres (14 ft) and is expected to rise further. The Rotherwas Industrial Estate was only accessible by lorries.
And fire services reported they had been pumping out water at Madley Communications Centre since 15:00. BT, which operates the site - an international satellite base - said a sub-station had flooded but there was "no impact on services".
The rain is forecast to gradually ease away in the West Midlands but heavy showers will follow, BBC Weather reports.