Learning from 16 years of reporting on Midlands' floods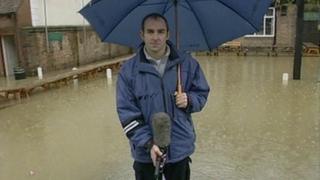 Here's a blast from the past, a picture of me on flood reporting duty in 2000 in Bewdley.
It was all very new and at least initially quite exciting for those not directly affected.
I remember saying at the time there was a "party atmosphere" in the local pub but all that quickly changed as people adjusted to the tedious reality of living in a flood zone.
Back then it was our second big flood in just two years.
In 1998 when I reported on my first Midlands floods I remember being shown a historical record of the River Severn water levels by one interviewee.
You could clearly see it had been decades since the last major flood and in that time people had simply forgotten how bad things could get and how to cope when the worst happened.
Summer downpours
Owners of older riverside properties had died or moved away and new owners, puzzled by the high windows which blocked their river view, carried out alterations to their new homes.
Lowering windows to reveal the view which of course also allowed water to flood in when the river finally burst its banks.
But if knowledge had been lost after 1998, we quickly learned to live with flooding again as we saw major events in 2000, 2007 and now 2014.
We saw everything from slowly rising flood waters in winter that then dragged on for months to sudden summer downpours… that then dragged on for months.
I also saw huge changes in how the Environment Agency tackles flooding.
After 1998, the flood warning and alerts system was given a massive overhaul having been strongly criticised after the event, and with each flood, we've seen more money going to flood defences for affected properties.
This year is really the end of the major large scale new defences but we will still see the Environment Agency looking to find innovative new ways to help people.
The flood defences at Kempsey are one example of an innovative and cost effective idea that helped keep houses dry that would otherwise be considered uneconomic to protect.
Although, sometimes the best ideas fail to work as happened in Kempsey in November 2012 when a soggy sensor caused the pumps to stop working.
Better prepared
In any article about flooding it is important to acknowledge just what a miserable experience it is personally when it's your home or business that's affected. No matter how prepared you are it is always a shock and it can be months before life returns to normal.
Since my first big flood in 1998, about 2,000 properties across the region - including BBC Hereford and Worcester! - are now protected by flood defences.
These are people and businesses that are dry today that would have been underwater back then.
None of which is a comfort to those affected by this latest round of flooding of course.
There's always more that could be done and there is once again plenty of criticism of the Environment Agency including from those on the inside.
But there are also agency staff and plenty of others out there working hard, putting up barriers, finding new pump generators when theirs are stolen and keeping people informed about what is going on.
We still don't know how these floods will compare to others we've gone through, but despite everything I can certainly say in the Midlands we're much better prepared than we were back in 1998.