Worcestershire flooding: 'No end in sight' as rivers rise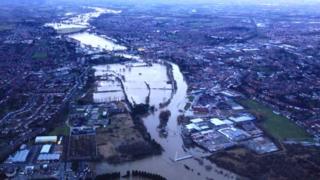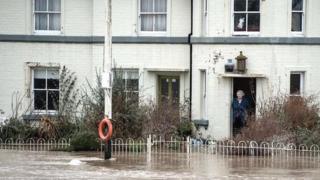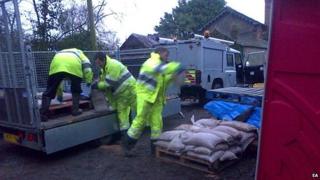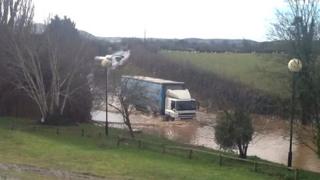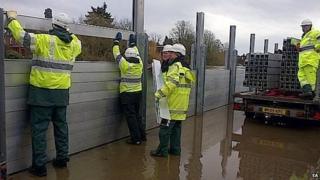 There is "no end in sight" for flooding in Worcestershire as river levels continue to rise, the Environment Agency has said.
The water at Bewdley is likely to be at its "highest for 14 years" and the barriers have been built higher, the agency added.
The number of flood warnings for rivers in Herefordshire and Worcestershire has risen to 27.
West Midlands Search and Rescue service is on standby.
Dave Throup from the agency said: "The situation is not great, there is a lot coming down the Severn - we are talking very high levels."
He added that "snow and storm force winds" were expected, and "there is no end in sight at the moment".
Children rescued
Hereford and Worcester Fire Service said it had attended "numerous" incidents of drivers getting stuck in flood water, while five nursery-aged children and three members of staff were rescued by firefighters in Sherridge Road, Malvern, after their play group was cut off.
Residents in Malvern said roads were becoming impassable.
Norm Everett from Holt Heath said he had given up on his journey because it was "just not worth it".
"I saw a van go through the water and it nearly didn't make it, so I'm not playing silly beggars," he said.
The Environment Agency, Highways Agency, police, fire service, MPs and the county council have been meeting to discuss the situation in Worcestershire.
West Mercia Police's Supt Mark Travis said: "The contingency measures which have been put in place are working and all agencies are working together and are prepared should the situation escalate.
"We would reiterate previous messages about not driving or entering flood water.
"Decisions are not being made lightly and we are working together to have an effective response balancing keeping our cities open whilst keeping people safe."
Mr Throup said: "It is a logistical challenge and very very hard work.
"Local rainfall is expected and it could push rivers very high very quickly.
"It's difficult to predict so we are staying on our toes."
The road bridge in Worcester city centre was due to close.
Despite earlier delays between Hereford and Birmingham caused by flooding, services are back to normal, National Rail said.