Worcestershire river levels due to rise until Tuesday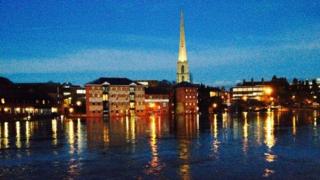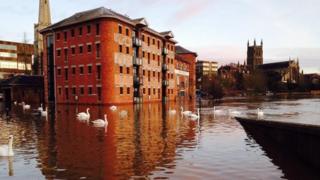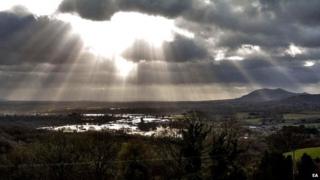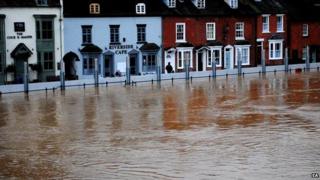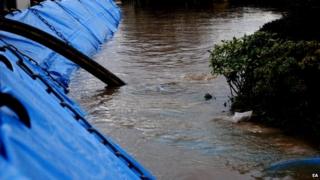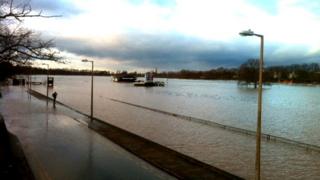 Water levels of the River Severn in Worcestershire will continue to rise until Tuesday afternoon, the Environment Agency has said.
About 40 houses in Worcestershire and Herefordshire have been flooded, despite defences, the agency added.
Hereford and Worcester Fire Service was called to "numerous" incidents of cars stuck in flood water.
Warnings are in place for the rivers Severn, Teme, Wye and Avon across Herefordshire and Worcestershire.
The Severn has reached its highest level since the summer of 2007.
Worcester's city road bridge was shut for 24 hours, reopening at 13:00 GMT.
Roadworks in Bath Road, Newtown Road and Droitwich Road in Worcester have been suspended.
Mercia Inshore Rescue team went to the aid of a householder on Hanley Road in Upton upon Severn.
The Rose and Crown pub at Severn Stoke is flooded and could be closed for months.
Landlord Peter Fryar said: "The defences were holding yesterday [Sunday] and I really thought we'd be here today... but this has just totally surprised us."
The Environment Agency is expecting levels on the Severn in Worcester to peak at a higher level on Tuesday than on Monday.
Dave Throup, from the agency, said: "Unfortunately, we're expecting another peak tomorrow with the rain that's just in the system coming down from Wales.
"We're already seeing some quite big peaks up at Shrewsbury.
"There looks like significant rainfall forecast now for Wednesday and for Friday and that's going to work its way through the system."
BBC Hereford and Worcester reporter Lucy King, speaking from the side of the Severn in Upton, said: "The river is looking extremely full.
"The flood defences, though, are working. The water level is up to the top of the wall."
Minister of the Baptist Church in Upton, Paul McCabe, said people in the town were coping well: "First and foremost, everybody is extremely grateful for the defences.
"They have saved an awful lot of destruction in the town.
"But of course, like any community which has had flooding, we have concern for anyone who is vulnerable."
In Herefordshire, river levels at Leintwardine, which are usually between 0.3m and 1.4m, were 1.7m earlier on Monday.
Flood problems have been reported in Pembridge, Kingsland and Yarpole, BBC Hereford and Worcester reporter Trevor Owens said.
The Met Office has issued warnings for both wind and rain for Worcestershire and Herefordshire lasting the rest of the week.