Woman rescued from flooded house in Worcestershire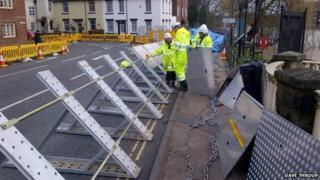 A woman stranded by rising flood waters at her home has been rescued by firefighters in Worcestershire.
The woman and three dogs were evacuated from the house in Lanes End in Kempsey at about 21:00 GMT on Friday.
The Environment Agency has issued 21 flood warnings for the Rivers Severn and Avon in Worcestershire and the Wye and Teme in Herefordshire.
It said the flood barriers at Beales Corner in Bewdley were being extended due to rising river levels.
Floodgates at Dunns Lane in Upton-on-Severn were closed on Thursday.
The Met office said a A yellow weather warning for rain was in place.
'Significant impacts'
Dave Throup from the Environment Agency said river levels in Worcester were at their highest in six years and were continuing to rise.
He said: "We are getting to levels which will cause more significant impacts in Worcester but we are keeping a close eye on what those levels are going to do today with our forecasters.
The A443 Hylton Road in Worcester and the A4110 in Adforton in Herefordshire have both been closed because of flooding as have a number of roads in Bewdley and Upton-on-Severn, police said.
Jackie Surtees, who lives in Upton, said the town was "open for business" but river levels were rising.
"The water isn't at the top of the flood barriers, there's plenty of room to spare at the moment - the defences have been the saving grace of the town."