Worcestershire to turn off 17,000 streetlights to save £500,000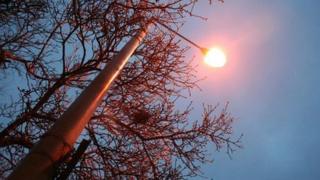 Up to 17,000 streetlights could be switched off across Worcestershire if county council plans are approved.
The proposal, which aims to save £500,000 a year, follows a trial in which "two out of three" lights in Droitwich were turned off between midnight and dawn.
The council said consultations in each area would be held before lights were switched off in April.
Councillor John Smith said there had been "no complaints" during the trial.
Mr Smith said the "effects [in Droitwich] were minimal" and "there were no complaints".
"Two out of three lights were turned off, so it was not totally dark," he said.
The two-year lighting reduction plan would see lighting remain on main roads and busy junctions.
Mr Smith said that "some people, even police officers, say burglars would much rather have it lit because if they have to use a torch, they're more 'spottable'".
He added that West Mercia Police were "reasonably happy with what we're suggesting".
"We've consulted with them and we'll consult with them again before we take on any more areas."
A spokesman said the council, which has 52,000 streetlights, hoped the plan would help reduce carbon dioxide emissions, in addition to cost-saving.