Olive trees snatched in Ledbury farm raid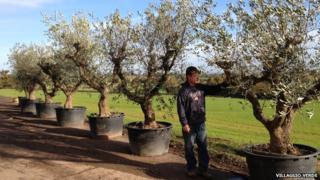 Valuable 200-year-old olive trees have been stolen from a farm, costing a grower more than £10,000.
Seven trees, each about 10ft (3m) tall and weighing some 1.5 tonnes, were taken from Argus Farm, in Dymock Road in Ledbury, Herefordshire.
They were stored in large pots at the farm and were seen being carried away by a blue Volvo lorry with a 40ft flatbed trailer.
Grower Jason Hales said: "They were beautiful and unique, and I miss them."
He added it was "clearly a targeted theft, [the trees] were taken in a two-hour window one lunchtime - the only time when nobody was here".
The trees were to have formed part of a Royal Horticultural Society project at Malvern Spring Gardening Show in May.