Man rescued from rising River Severn in Worcestershire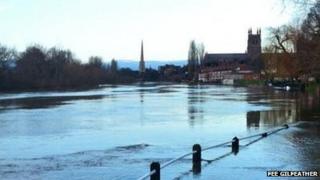 A man has been rescued from the "fast flowing" waters of the River Severn in Worcestershire.
The man, who has not been named, was rescued at 01:00 GMT from an area behind Worcester Technical College in Deansway.
He was then taken to Worcestershire Royal Hospital for treatment.
West Midlands Ambulance Service said it was "extremely fortunate" paramedics had been able to pull the man to safety.
A spokesman warned people to stay away from flood water.
"Not heeding the many safety warnings puts lives at risk including ambulance staff and other emergency service personnel called to waterway incidents," he said.
Seven flood warnings remain in place in Worcestershire, including six on the River Severn.
John Philpin, from the Environment Agency, said: "The River Severn is our main concern. The levels are high. They are slightly falling at the moment but we do expect more rain."