Tardebigge lock repair work done after quarter-century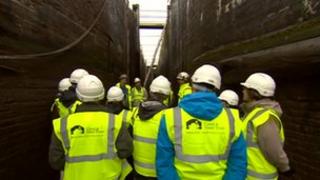 Repair work is being carried out at Tardebigge lock on the Worcester and Birmingham canal for the first time in 25 years.
With 58 locks between Tardebigge and Worcester, it is the longest flight of locks on a canal in England.
Eight sections have been drained for the gates to be replaced.
The Canal and River Trust said visitors could look at the Victorian engineering and 200-year-old brickwork, which is only exposed every quarter-century.
Fish from the canal have been temporarily moved to another stretch.
The building of the Worcester and Birmingham canal started in 1791, and the canal opened in 1815.
It is is 47km (29 miles) long, has five tunnels and 58 locks and cost £610,000 to build, the equivalent of about £50m today.