Kinver Edge woodland becomes Iron Age heathland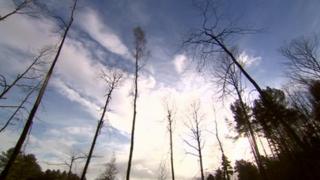 Trees at a Worcestershire beauty spot are being felled to turn the site into a home for rare species.
Kinver Edge, which is currently woodland, is being restored by the National Trust to its original state of lowland heath.
More than 80% of England's lowland heaths have been lost in the past 200 years, the charity said.
It is likely the heathland at Kinver Edge dates back as far as the site's Iron Age hill fort, it added.
The area, registered as a SSSI (Site of Special Scientific Interest) is terrain that is an important habitat for a number of plants and animals, including endangered birds, moths and reptiles.
'Like a warzone'
A 3.4-hectare area of trees will be felled between January and February. Most of them are planted conifers or young oaks which are weak and spindly.
Native species, and those of biological importance will remain, and archaeological features at the site will be protected during the work.
Laura Broadhurst from the National Trust said: "It may look like a warzone and people might wonder what on earth we're doing.
"But it is part of a carefully thought about management plan to return the area back to lowland heath."
Alex Morley, countryside manager at Kinver Edge, said: "Many visitors to Kinver Edge assume that the woodland has been here for hundreds of years, but it actually dates back less than a century and the heathland we're working to restore is a much rarer habitat."
Over the centuries, areas of heathland like that at Kinver Edge would have provided grazing for cattle, materials for crafts such as broom-making, as well as being an important source of nectar for beekeepers.
Bare patches of land also create niche habitats for seed germination and opportunities for animals to lay eggs, hunt and bask.