Flooded New Road ground damage 'could have been worse'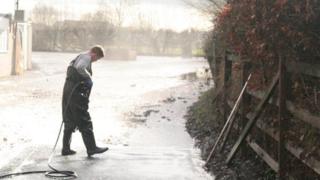 The impact of recent flooding on Worcestershire's cricket ground could have been worse, the club has said.
The New Road ground had been submerged since heavy rain at the end of December, with canoeists and swans taking to the water.
However, a club spokeswoman said it was not as bad as in 2007, when its second-highest flood in its 148-year history washed out half the season.
It is usual for seasonal flood water to reach the top step of the pavilion.
The club's worst flood was in 1947, and there is a brass plaque in the club bar to commemorate it.
"We don't need a particularly big clean this year," the spokeswoman said. "But, we do have a few guys out there with pressure hoses."
Worcestershire fan, Bill Chester, who was watching the clear up, said he was relieved these floods were relatively minor.
"Seeing the ground under water [in 2007], as if it had disappeared altogether, really affected me," he said.
"More than I thought - so it was the first thing that came into my head this year when the rain started."
In 2007, when the floods came in the mid-season in late June, former chairman and current president, Duncan Fearnely, said: "It was disastrous because there was no recovery time [before the season started].
"It ruined all the kit, which had to be replaced. And it just left the ground looking like a graveyard."
Although the River Severn runs right past New Road, the flooding problem is caused about a mile downstream where it meets its tributary, the Teme, from where excess water is sent back over New Road - a flood plain.
Chester Road, Kidderminster, 14 miles away, is the county's stand-by option if New Road floods during the season.