Evesham's Abbey Bridge closure extended until March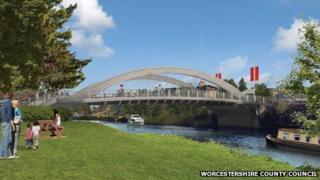 A Worcestershire bridge which was due to be shut for three months will be closed for a further 11 weeks, contractors have said.
An £8m scheme to replace Abbey Bridge in Evesham was due to end in December.
Contractors Hochtief said they had lost three weeks of construction work due to bad weather and the bridge would now re-open on 31 March.
Traders in Evesham said the road works were causing significant disruption and had affected profits.
It is the second time the closure of the bridge has been extended.
Work began in September with a schedule of 10 weeks but by November the completion date was put back by another three weeks.
A statement from Hochtief said: "Throughout the bridge closure period in 2013 there were 22 days of production lost due to the crane being weathered off [wind gusts above a safe working level] and river flows being too strong for the river boats to work."
'Lap of the gods'
Tony Rowland from the Vale of Evesham Commerce and Tourism Association said it had negotiated a 10% cut in business rates with Worcestershire County Council as compensation.
"It's worth quite a few thousand pounds to larger shops and a few hundred to other businesses depending on location," he said.
"I'm personally worried that the next deadline won't be met either because the work is so weather dependent, it's in the lap of the gods."
The council said a bus fare offer and car park discount scheme would also continue to help traders.