Worcestershire flood barriers come down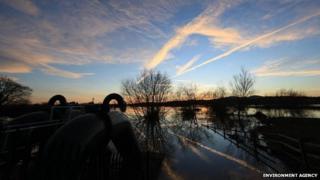 Flood barriers have been removed in Worcestershire as river levels continue to fall.
Dave Throup from the Environment Agency said levels on the Severn were expected to "drop nicely".
Some flood gates have been opened at Dunns Lane in Upton-upon-Severn and barriers in Bewdley have been brought down.
However, several flood warnings remain in place in the county and some roads are still blocked by flooding.
Warnings issued for Upton, Court Meadow, Kempsey and Callow End as far back as 10 days ago are still in place, although the agency said levels were falling and no further significant rain was expected in the next 48 hours.
Mr Throup said the Environment Agency continued to keep a lot of staff on duty to ensure the situation was closely monitored.
Hanley Road in Upton remains closed due to flooding, with the A466 in Welsh Newton, the A449 in Old Gore and the B4347 in Ewyas Harold also affected.