Hereford United football club is served winding-up petition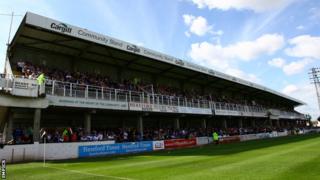 Troubled Conference football club Hereford United has been served a winding-up petition by HM Revenue and Customs.
The club has been struggling to meet its PAYE and VAT bills.
United faced a similar situation in 2013 but was able to pay its bills thanks to a £70,000 payment from a televised FA Cup tie against Cheltenham.
The club said the latest petition was not a surprise.
'Long-term plan'
In a statement, it said it was "closing in" on signing new leases on its Edgar Street ground, which would enable it to approach developers and attract investment to support it through the rest of the season.
Manager Martin Foyle said the situation had probably been "a little bit worse" the previous season.
"The players didn't get paid last year whereas this year they have been paid every month," he said.
"We are getting there but it is a long-term plan. There are a lot of ideas off the pitch and hopefully all the hard work will come to fruition for the board."
The Bulls have been struggling financially ever since their relegation from the Football League in May 2012.
Before Christmas, the club issued a statement saying it was continuing to lose money on a month-by-month basis.
It has not revealed how much money it owes.
HMRC said a petition to wind up the club would be heard at the Royal Courts of Justice in London on 27 January.
Keith Dodd, chairman of the Hereford United Independent Supporters Club, said: "We were expecting this and hopefully we will be able to sort it out.
"It's not the first time it's happened to us but hopefully it will be the last."