River levels in Herefordshire and Worcestershire 'to reach peak'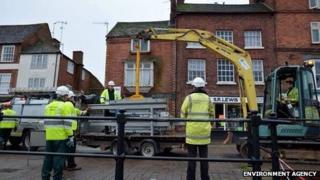 Flood warnings have been issued for rivers in Worcestershire with water levels expected to peak later.
Two pumps have been installed by Severn Trent water at Hylton Road in Worcester city centre to help clear flood waters. It said part of the road was closed.
The Environment Agency said eleven warnings were in place for stretches of the Rivers Severn, Teme, and Avon.
On Wednesday, temporary barriers were put up in Bewdley, while the gates at Upton-upon-Severn remain closed.
Dave Throup from the Environment Agency said he expected "already high water levels" to rise slowly throughout the night and peak in the early hours of the morning.
"In the last three weeks across the catchment 15 properties have been flooded sadly but our defences are protecting well in excess of a 1,000 homes which is a positive," he said.
The agency said it was monitoring the situation closely.