Bewdley flood defences go up as warnings remain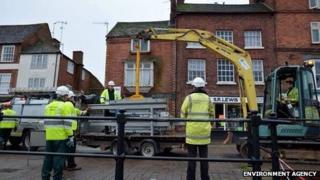 Flood defences are being bolstered in part of Worcestershire as six flood warnings remain in place in the county.
Temporary barriers were being put in place at Severnside North, in Bewdley, ahead of a likely peak river on Friday, the Environment Agency said.
Five flood warnings apply on the Severn in the county, including two at Upton upon Severn. The sixth relates to the River Avon at Strensham and Bredon.
All gates have been closed at Upton, the agency added.
Dave Throup, from the agency, said rain on Wednesday night was "going to push up levels locally".
He added: "There are some streams that join the River Severn at Bewdley and those streams may push the levels up on the river at Bewdley quickly."
Mr Throup said the other reason for putting up defences in the area was the likely peak on the Severn at Bewdley on Friday, due to heavy rainfall in Wales on Wednesday and Thursday morning making its way to Worcestershire.
He said: "We're monitoring the situation very closely through the night and we will review it in the morning once we know how much rain has fallen."
The warnings on the Severn relate to south Worcester, Hanley Castle and Saxons Lode, Court Meadow, Kempsey and Callow End, East Waterside at Upton and Hanley Road at Upton.