Will mobile phones change Ewyas Harold?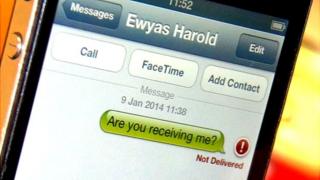 A small Herefordshire village is one of 12 so-called "not spots" - residential areas without mobile phone coverage - to join the network on Friday. But how much will it change villagers' lives?
Ewyas Harold, near the Welsh border, is one of the 2% of places in the UK that cannot get any mobile signal at all - until now.
Three small base stations have been put on the roofs of the pub, the school and the doctors' surgery.
It is the result of months of campaigning by Graham Powell, a local county councillor.
"In terms of mobile phone coverage, it's a case of the haves and the have-nots," said Mr Powell.
"And the divide between the two is increasingly growing.
"We have to bridge that gap and anything we can do is worthwhile."
Mr Powell said he entered local politics because he wanted to improve the phone and broadband coverage in the rural area.
A former telecommunications worker, he took on the job of getting the people of Ewyas Harold behind the idea, which led to the village becoming one of 12 picked from hundreds to take part in the trial run by Vodafone.
He cites emergencies as an important reason for having network coverage, adding: "I'd hate for someone to have an accident and not be able to call for help."
However, possibly the greatest impact will be on the village's children. Teenagers and mobile phones usually go hand in hand - but until now, not in Ewyas Harold.
Louis Eastwood and Rachel Mailes, both 15, and 16-year-old Tash Bagley, own mobile phones but can only use them when they leave the village and pick up a signal.
"For me, getting the proper signal when it's all switched on, is 10 out of 10 in importance," said Tash.
"If I can't contact my friends I feel like they can make plans without me."
"I'd be so happy if the signal works and make up for lost time and just text loads and loads," said Louis.
"We're OK really, because we get a signal in school. But for people who work and live [in Ewyas Harold] it must be a nightmare," he added.
For many people, life without a mobile phone signal can be traumatic. In 2008 the Post Office coined the term "nomophobia" to describe the fear of being without a working handset.
Rosy James and her husband Tomos, who are visiting the village on holiday, fall into this category. She said while admiring the village's 13th Century church they realised they were disconnected from the outside world.
"I've got a knot in my stomach," she said. "I keep looking even though I know there's no reception. I just can't relax.
"I couldn't live here, I really couldn't."
However, for many villagers, the lack of a functioning mobile signal is not that big a deal. This may have something to do with the fact that 35% of them are aged over 60.
One of them, Aubrey Broome, who lives on the outskirts of the village, said he was certain he would not become dependent on a mobile phone.
"I'm not going to become one of those people you see, looking at the phone and whatnot when they're in the pub," he said.
"There is a phone box in the village, it even accepts cards.
"We're not completely in the dark ages, you know."
The Mailes family have run the village butchers in Ewyas Harold since 1892, and brothers Richard and Robert Mailes and their cousin Sarah Enyon are used to letting people pop in and use the shop's landline.
Ms Enyon said that, although she was unlikely to use her phone much during the day, there would be a psychological benefit.
"It's true that I'll have that feeling of reassurance I don't have now, to know if I am needed somewhere people can get hold of me."
When asked whether he thought the residents of Ewyas Harold would take to using textspeak, Mr Powell laughed.
"Given the average age of people in Ewyas Harold, I would be astonished," he said.
"I can't see anyone LOL-ing in the foreseeable future."
"Although maybe we will get to see some SOS-ing."