Worcestershire river flood warnings still in place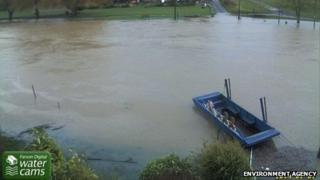 Flood warnings remain in Worcester with more rain expected tonight, the Environment Agency has said.
Water levels on the River Avon in Worcestershire peaked on Tuesday night, an Agency spokesman said.
Even so, flood warnings remain on the stretches at Strensham and Bredon and at Wyre Piddle.
On the Severn, four flood warnings are in place, at south Worcester, Upton upon Severn, Hanley Castle and Saxons Lode, and Kempsey and Callow End.
Dave Throup from the Environment Agency said: "Huge areas remain at flood risk and more heavy rain is expected."
The Met Office said more heavy rain was expected on Wednesday from about 16:00 GMT.
Mr Throup added: "It doesn't take much to kick the rivers back up again but the models at the moment show there aren't too many alarming rises.
"We just need to keep a close eye on it."
The fire service said it rescued two people on Monday from a car which had become stranded in flood water in Wyre Piddle.