Herefordshire and Worcestershire remain on flood alert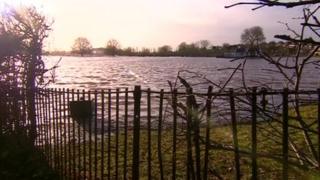 Several flood warnings remain in place in Worcestershire with more heavy rain expected.
Hylton Road in Worcester was closed on Friday night to allow the Environment Agency to install pumps to divert floodwater.
The agency said flood defences in Upton-upon-Severn and Kempsey seemed to be working well.
But Rachel Hill, from the organisation, warned that flood waters would not clear "anytime soon".
She said "continued heavy rain and wind" was expected across the counties, creating a "bleak picture".
The Met Office warned that the poor weather was expected to continue into next week.
'Own little island'
About £12m has been spent on flood defences in Worcestershire in the last seven years, including £1.7m on pumps and other defences at Kempsey.
Local resident Jackie Smith said the pumps seemed to be protecting the village, although her home, not covered by the defences, was badly affected.
"I face the river and there's no entrances at the side or back. When the river comes up it completely surrounds me, so I'm on my own little island here," she said.
Flood warnings remain in place on the Severn in south Worcester, Upton, Saxons Lode, Callow End and Kempsey.
New warnings have also been issued for the River Avon at Strensham and Bredon, as well as Wyre Piddle.
However, in Herefordshire, a flood warning for the River Wye was downgraded on Saturday morning, while an alert was also removed for the River Arrow.
Across Herefordshire and Worcestershire several roads have been badly affected by flooding, including the A44 Worcester Road in Stoke Prior, the A465 in Hereford and the A449 in Much Marcle.
Hanley Road and New Street were both closed in Upton, along with roads in Kinnersley, Marden, Yarkhill and Eckington.