Herefordshire archives and records office closes down for move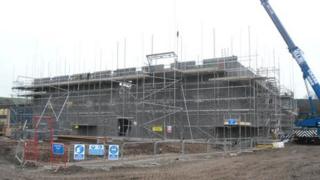 Work has begun to clean and pack up more than 20,000 boxes of archives, books and research material and then move them to a new records office.
The documents will be moved to a new £8m facility in Rotherwas, Herefordshire, in 2015.
The current record offices in Harold Street in Hereford closed permanently to visitors on Wednesday.
More than 20 volunteers are helping to clean and pack the items, which include 10,000 books and 5,000 maps.
Herefordshire Council said although people could not visit the offices they could still request archive searches which would be done by its research teams.
Councillor Roger Phillips, cabinet member for enterprise and culture, said: "During the process so far, a number of fascinating documents have been discovered, including a rare sheet of medieval music from the 14th or 15th Century.
"It is imperative that we preserve these documents for future generations."
The authority said the new archives and records office was funded from its accommodation budget.
Work is due to be completed by December 2014.