Eight valuable chickens stolen from shed in Hanbury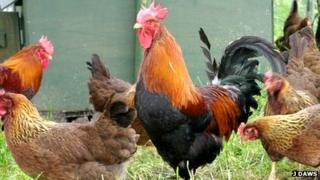 Eight rare breed chickens have been stolen from a farm, including a valuable cockerel.
The gold Welsummers - three cocks and five hens - were bred for competition and were taken from an unlocked shed at Park Hall Farm in Hanbury near Redditch between midnight and 06:00 GMT Tuesday.
One of the birds was an award-winning cockerel which was worth about £100, a West Mercia Police spokesman said.
The chickens have distinctive chestnut and black colouring.
"It is believed the stolen chickens were specially selected by the offenders, who appeared to know what they were looking for," the spokesman added.
Police are appealing for witnesses.