Worcestershire hospitals cancel surgery due to A&E demand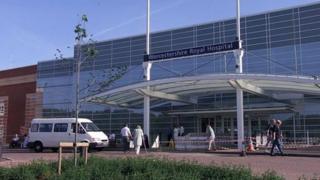 Non-urgent operations and appointments have been cancelled at two hospitals in Worcestershire due to increased pressure on their A&E units.
The trust running Worcestershire Royal Hospital and the Alexandra Hospital in Redditch said it was experiencing "an unexpected level of demand."
It said extra beds had been made available at both sites and some staff leave had been cancelled.
Services could take two weeks to return to normal, it said.
Worcestershire Acute Hospitals NHS Trust said it had seen 10% more emergency admissions than expected with more than 3,000 people admitted between 30 November and 15 December.
Deputy chief executive Chris Tidman said that only emergency surgery would be carried out and the hospitals would be in touch with those affected.
He said: "If we feel operations can be rescheduled in the next two to three weeks that's what we'll do but we're putting all patients on standby the night before and then confirming appointments.
"Normally, the first two weeks in January are the busiest of the year. It could mean another two weeks before we get back to normal but we are reviewing it on a day by day basis."