River Severn flood warnings in Worcestershire lifted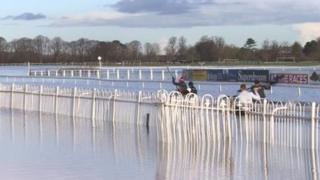 The last flood warnings along the River Severn in Worcestershire have been lifted, the Environment Agency says.
A total of 11 warnings were issued for the river in the county but the threat of flooding has now been downgraded.
Canoeists were seen in the flood water at Worcester Racecourse on Saturday and the city's cricket ground was also flooded after the recent wet weather.
More wet weather is expected in parts of southern England, Wales and Scotland on Monday, the Met Office said.