Flood warnings along River Severn in Worcestershire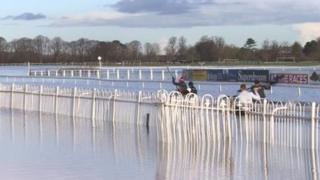 Two flood warnings remain in place along the River Severn in Worcestershire.
The Environment Agency said water levels had peaked in most areas. A total of 11 warnings were issued for the river in the county.
Levels at Kempsey Yacht Club is falling slowly after peaking at 6.65 m (21ft) on Christmas Day, the agency said
Canoeists were making the most of the flooding at Worcester Racecourse on Saturday.
The Met Office is forecasting bright, sunny spells in the West Midlands on Saturday with the likelihood of a few showers.