Car crashes into the side of a pub in Much Marcle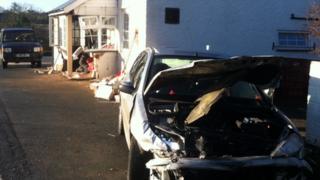 A car has crashed into the side of a pub in Herefordshire.
Firefighters were called to The Royal Oak in Much Marcle around 09:30 GMT and found the vehicle had smashed through the pub's porch area
Pub manager Liza McBain said the driver of the car hurt her arm in the crash and was taken to hospital but no-one else was injured.
"I heard a loud noise and it sounded as though a load of barrels were being dropped," she said.